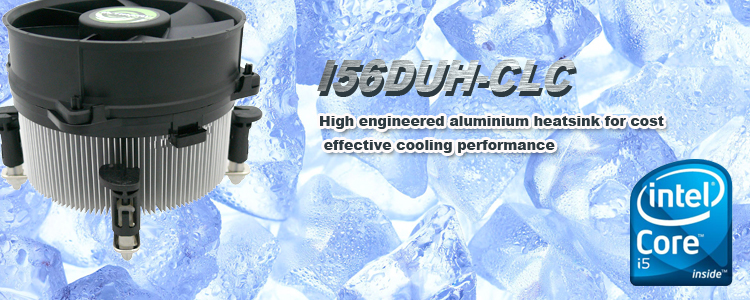 Innovative Silent Fan with Advanced Technology-I56DUH-CLC
High thermal conduction design
Aluminum extrusion and insertion technology.
Screw spring foot design for easy installation.
Low acoustic noise and smart fan speed control
Using PWM control method to adjust fan speed.
No system environment temperature restriction.
Aluminum Extrusion Heatsink provides more heat dissipation area.
Optimized solution for low power processors.
Application: Intel® Core™ i5 Processor all series
This is a light and handy, also beautiful product of epoch, which is contained high quality and conveniences.
Click here for more information.

We guarantee our excellent raw material & high quality control, competitive price and complete service after sale. We also guarantee excellent product quality, strong packing system, reasonable price and on-time shipments.
ThermalFly Office committed to using lighter weight materials, lower noise and lower manufacturing cost to deliver superior cooling solutions. The result is increased value for our customers with lighter system board loading, quiet working environment and optimal price performance. Price performance, weight performance, and noise performance are our cooling design philosophy.